Avana Retreat's Best Viewpoints
Discover these locations and have peace of mind for yourself in the midst of nature!
Admire the mountainous scenery at Avana Retreat and find yourself moments of freedom and relaxation. At Avana, there are many beautiful viewpoints you can uncover, discover these locations and have peace of mind for yourself in the midst of nature!
Note down this list with Avana's best viewpoints!
Cloud Pool
Let the panoramic view of Cloud Pool amazes you from dusk until dawn. Inspired by Mai Chau's iconic terraced fields, our infinity, three-deck Pool is one of the best viewpoints to admire the natural scene. Views of paddy fields, mountains, and valleys are spectacular from here!
Visit Cloud Pool by dawn and you won't be disappointed!
View Point
Like an overhead observatory, the view point will give you a bird's-eye view of nature and the entire resort. Practicing yoga in the mountain air while observing the dreamy dawn is something yoga lovers cannot miss! Another way to enjoy the picturesque view is to accompany yourself with a book. Lighten up your mind with beautiful words while resting in the solitude of nature!
The View Point is a lovely spot to hide away for a private time in nature (Credit: Ms. Phuong Chi)
H'mong Cottage
Perched over the high view of the valley, H'mong Cottage is our well-being sanctuary. Ease out and let your body be restored in the unspeaking ambiance and healing sessions covering from Yoga, Breathwork, to Meditation. In the afternoon, H'mong Cottage is open for a gourmet tea time in the setting of elegance. Relish in gourmet dessert assortments while setting your eyes on the idyllic valley view.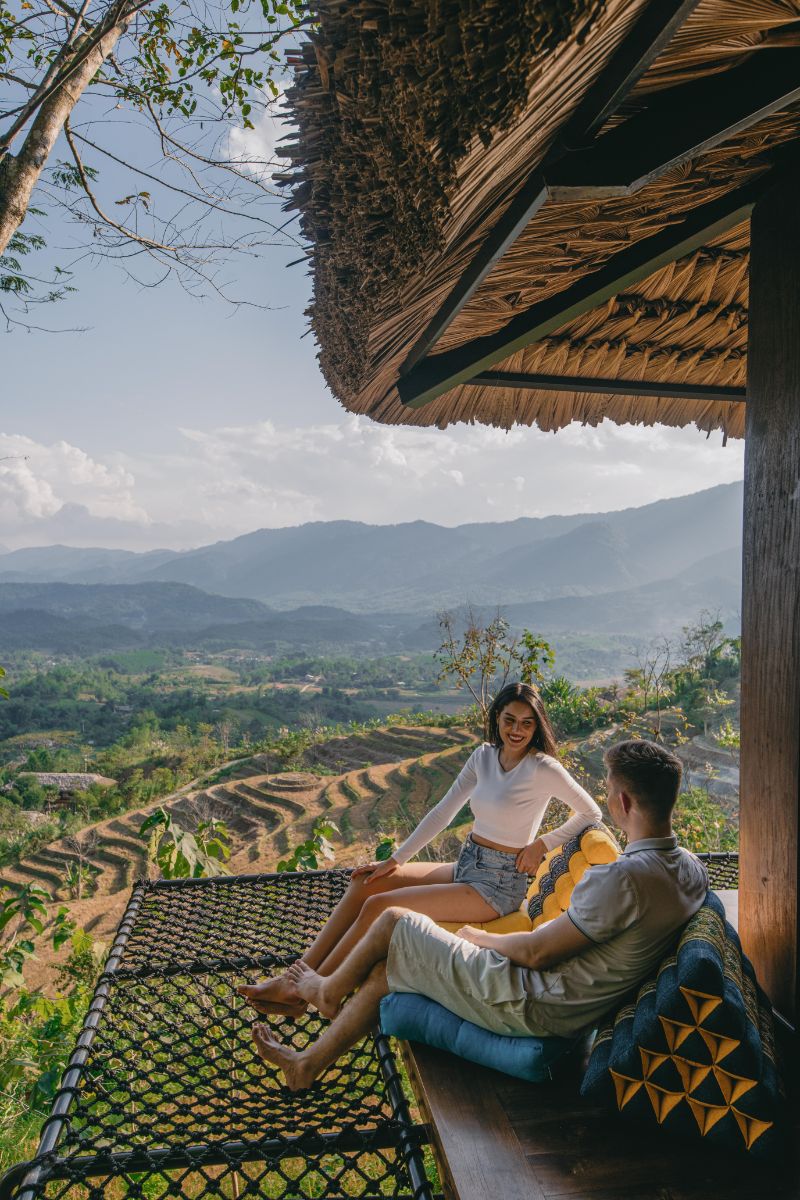 Whenever you are up in the H'mong Cottage with your loved ones, time seems to pause!
Villa view
36 bungalows, suites, and private pool villas here will make you feel right at home. Overlooking the valley from the floor-to-ceiling glass door, nothing beats a wake-up view of the calming sights and sounds of nature from your own bed. A generous balcony outside is your safe spot to enjoy the fresh mountain air.
Open the door and you are submerged in this stunning view, for you and you only!
Visit Avana Retreat and explore each of the amazing viewpoints with your own experience! Book now at our website.