Hide deep into the pristine forest, separate from other parts of the retreat, Orchid Spa is like ar world of tranquility. There are calm streams, cool shades of trees, and soothing sounds of nature that give you moments of pure relaxation and meditation. In this world, you find calm in your mind and a deep connection to nature.
Scroll down to read 5 reasons why I love Orchid Spa.
Mesmerizing Scenery
It has a reason to say that Orchid Spa is the most beautiful part of Avana Retreat. A wooden bridge takes you deep into the forest where the sun casts light through the trees and the air smells pristine and sweet. No matter how many times you walk on this bridge, you'll always see something new. Something relaxes your mind and brings calm to your soul. They built this bridge with a consciousness of the environment. Wherever a branch of a tree reaches out, they didn't cut it down but bent the bridge to avoid it. Under the boardwalk, streams roll in solemn silence. Here and there, chirping birds sing their songs and summer breezes blow silently through the leaves. The sound therapy of nature invokes beautiful memories and triggers physical relaxation and internal healing.
Treatment Rooms with Great Location
8 treatment rooms in Orchid Spa are located elegantly along with the waterfall's flow under the cool shade. There are only single and double rooms to ensure privacy and romance for guests while floor-to-ceiling glass windows provide an impressive view over the verdant forest. There are 4 rooms built above the stream. That means, from these places, you can hear the water murmuring while your mind and body are rejuvenated in the healing technique of your skilled therapist.
A Journey of Relaxation
The journey starts with a visit to the doctor's room where stores dried herbs and flowers in small drawers of a traditional pharmacy cabinet. Here, you will learn more about Vietnamese herbs and essential oils then choose the scent you like for your treatment. A walk on the bridge, in the quiet atmosphere, will soothe your mind before you get to your treatment room. Leave the busy life and stressful thoughts behind to enjoy one or two hours of deep relaxation and revitalization in the soothing music and scent.
It's More Than Just A Spa
Gorgeous treatment rooms and signature therapies are not only what Orchid Spa has to offer. You will find here a fitness center, a reading room, and awesome open-air places for meditation and yoga practice. They have one thing in common: All are open to the natural environment. Gym-goers enjoy the view while training, readers spend more time practicing the therapy of reading, and yoga lovers feel more connected to nature.
Beautiful People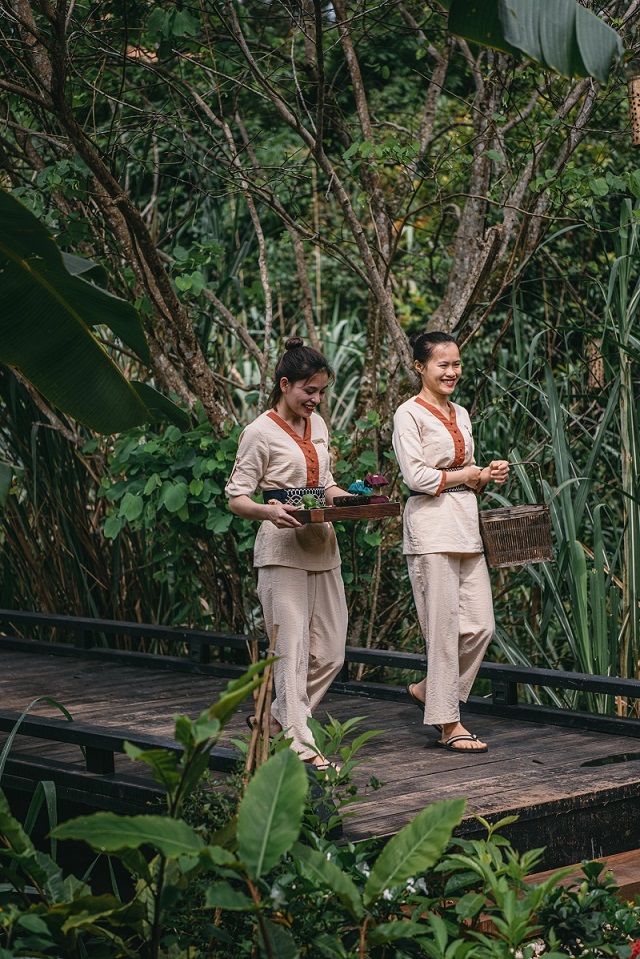 If someone asks what I remember most in Avana Retreat, I will say immediately "it's the people". All of the staff are local whose incomes came mainly from two rice cultivations in the fields. Avana provides English courses and skills training but kindness is their nature. They took care of everything I needed and treated me nicely. They aren't just staff. They're kind hosts who warmly welcome their guests to their homes with heartiness and hospitality.
When we can leave the loud world behind to embrace a quiet moment of contentment, we find something like happiness. Right here, at Orchid Spa.